Hand washing
2020
︎

The text in the film is below and the sentences in bold are whispers

Now we are washing our hands again again and again
Hands are the focus
Yellow leaves sometimes appear on my plants
Wearing gloves
Yellow gloves
Not just at my workplace
Or during stick and poke
Yellow shining sun through windows

Blue is the past
Blue ink on my skin
Blue was full of cracking trashing capitalism in place and in perspective
Yellow is now

Washing my hands
Washing them,
With soap, with alcohol, with sanitizer
Putting essential oil on them, I smell like trees
Like Swiss trees in mountainous landscapes, I miss the lake
Missing people sometimes, now maybe more than ever
I cried, this morning
It is reassuring, it is a worrying fucking time.
Today, I washed my hands just once, it is still morning

Yellow, the queer spirit
Yellow is my pronouns badge on my bag
Yellow one of the colours on the non-binary flag

Would love to touch another skin than mine, under my hands
Another smell than my sweat
Feeling the water between our bodies
Suddenly lack of affection gives it a power
Dreaming: running my fingers on your body
But, I'm washing my hands
Bang bang bang
Now we are all washing our hands
It is what matters now, cleaning our hands

Breaking hearts
Lost spirits
Cleaning their blood
Yellow, the colour of my work emails
Missing hugging loved ones
Missing smelling different tastes of skins and perfumes
Yellow, Gloria's pineapple soja wax wrapper
Washing our bodies again, now our hands
Now what matters is to physically be apart
Times are coming
Yellow is the colour of one of my favourite books
Time stopped
The rules are changing
We are all waiting

Home can be safe
Yellow is Roxanne's painted wall
Stay home. Protect yourself and others
Yellow the colour of my lampshade who took me hours to make
Home may be safe
Stay home but for some of us it's the least safe place ever
Yellow for a wish for witches
Stay home, from those who do not have a home
Yellow the light faraway, in some faith stories

Yellow good news for the future
Falling in love
Getting Phd funding
Moving in a new flat
Breaking up
Being fucking lucky to have a paid job
Yellow sometimes, the safe path to cross streets
My avocado plants are growing back
Yellow because small magical things can happen

Yellow is whatever, will happen next
A future with no answers
I am scared
A future with another shape
A shape that for once, will make sense
Maybe we can make it, together
For all of us

Not the same stories, the same experiences
Some have privileges others not
Not the same present, not the same History, not the same background
Solidarity shows up
Sticking together is the only answer
Let's for once, build.
Something new
Together, for all of us



Materiality:
video

Duration:
7.16 minutes
Cis men: roots aren't sweet
2019


Synopsis:
Cis men: roots aren't sweet, is a kind of report and fight back to personal experiences linked to ex-cis-boyfriends,
cis-men that I was dating or seeing, and their behaviour or comments linked to my body. The sweet potato is a reference to skin and everyday misogyny. The roots of the potato relate to the passing of time and the
infiltration of the ideology of patriarchy.
On the cards: CIS MEN: ROOTS AREN'T SWEET NICOLE MURMANN 2019.
On the other side: KEEP IT SIMPLE. RECORD YOUR SPONTANEOUS SONG, TEXT OR POEM. YOU CAN SING, SHOUT, WHISPER OR JUST SAY IT. I WILL ADD THE SOUNDTRACK TO MY PLAYLIST, WHICH WILL BW AVAIABLE ON SOUNDCLOUD: CIS MEN: ROOTS AREN'T SWEET.
Cis men:roots aren't sweet, the playlist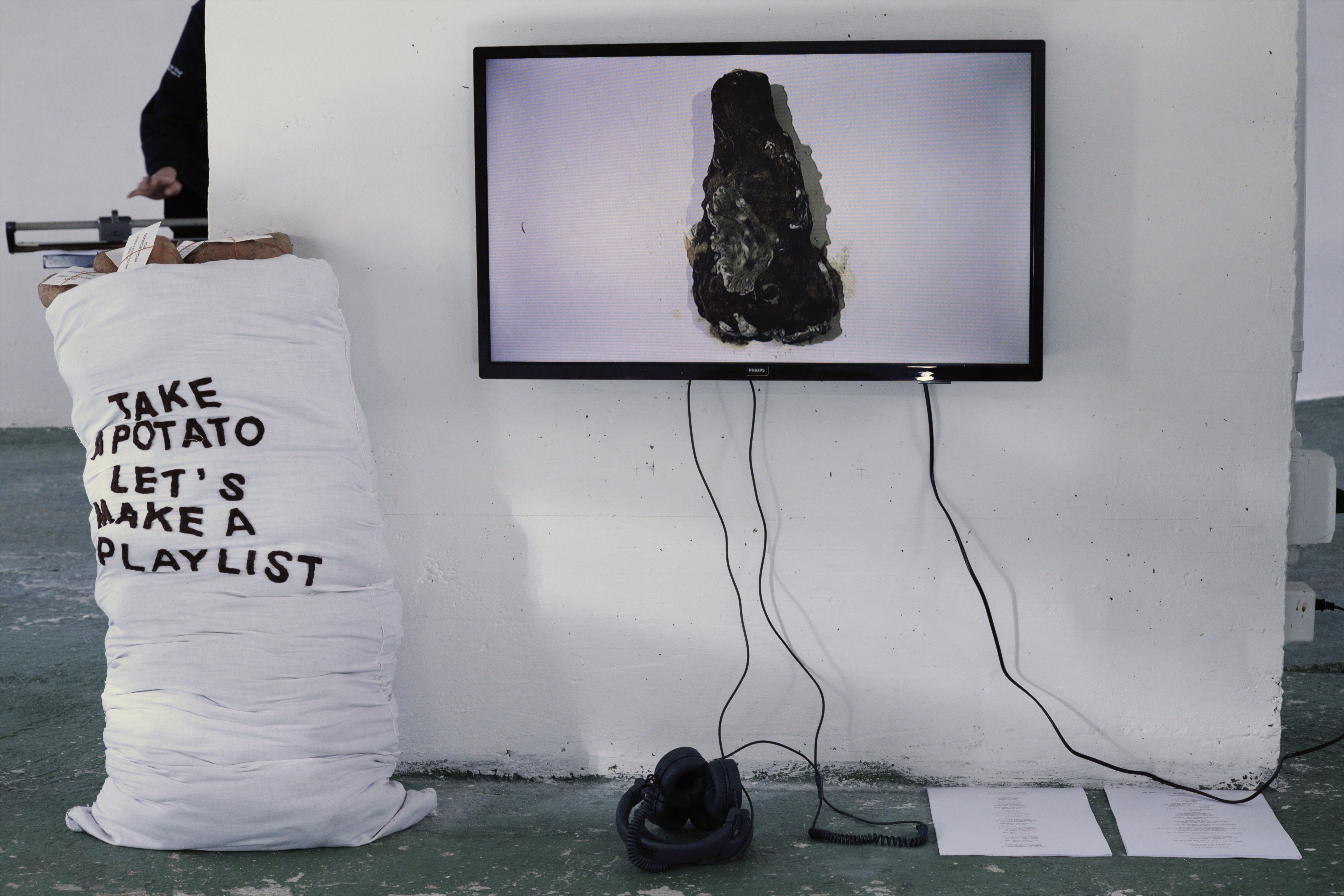 Text in the film:

Men
Invading spaces
That's not OK

No shared space
Layers peeled off
Only on my side
Forbidden to touch you

Men making comments
That's not OK

Being intimate
Body talk
Hair on my nipples
Your mouth says: shame

Men making comments
That's not OK

Informing your friends
My breasts are different sizes
You think it's abnormal

Men don't get consent
That's not OK

Consent for massages
Not to remove underwear
You think I will love it
I'm not there to please you

Men don't get consent
That's not OK

Bodies work differently
Penetrations aren't goals
Sex without hierarchies

Men should buy brains
That's not OK

Expanding exchanges
Thinking about overtones
Mutual pleasure is the aim

Men should buy hearts
That's not OK

I feel nauseous
Work on your behaviour

Man
My lust
My plots
My rules
My desires
My boundaries
My sexuality
My body
My freedom
My power
(said 1x and said louter and louter 6x)


Materiality:
headphones, film, sweet potatoes, cards, emboided bag, two bed sheets as pilow.

Heavy Souls, Queerology collective, Emergency Art Space, Vevey, CH

Duration:
4.31 minutes

Credits:
Naomi Gilby
Letzter Schluck
(Last Swallow)
2016



Synopsis :
I am wearing underwear, my feet are bare. I am standing in front of a high square table filled with glasses containing white wine; it pitches. I quickly drink the contents of twenty-odd glasses, which I then let fall to the ground. The glass breaks. I gradually become drunk; this simple gesture becomes more and more tricky.





I violently throw several alcohol-filled glasses to the ground. I am soaking wet. I then offer the wine glasses to the audience. I move around with two glasses in my hands at all times; in between, I drink several glasses. I drink the last glass of white wine. I break it. I take the table and leave.



Scenography:
A high square table, a vest and flesh-coloured pants, ninety glasses of white wine, six litres of white wine.

For the finishing of the exhibition: Young Art, Körper und Raum, Zeughaus Kultur, Brig, CH

Duration:
20 minutes

Credits:
Christelle Becholey Besson
WORKS
Kiss In
2019
︎
Text in the film:
Love. Respect. Freedom.
Being queer.
Kissing you.
Being queer in the Western World.
Kissing you.
Queer kissing.

Kissing for freedom when kissing is not forbidden.
Kissing and hoping having no-one stares
Kissing with consent.

Kissing you.

I ask you if I can kiss you, without knowing how you will answer. If it not, that's fine. I can deal with rejection, I am used to it, like everybody else. We are all used to it.

Kissing you.
Kissing in my bedroom.
Kissing in the small path near my flat.
Kissing in front of our friends.
Kissing you.
Just kissing you.
Kissing in public spaces.

Maybe you don't what to kiss me, cos of the others around us, cos of homophobia, lesbophobia, biphobia, transphobia, queerphobia? If that's the case, what can I say?

Kissing you.
Kissing in a crowd.
Kissing as a political action.
Kissing you cos I love you.
Holding hands.

Kissing you, cos I always make the first move.
Kissing you cos I am attracted to you.
Kissing you cos I like you.
Kissing just for the gesture.

Kissing to know if there is a spark.
Kissing for fun.
Kissing to discover how you kiss.
Kissing cos we are so blind drunk.

Kissing cos I miss it.
Kissing you to have no regrets.
Kissing you cos I am afraid that you will never kiss me.
Kissing you cos it is a while since anybody kissed me.

I kiss you.
You kiss me.
They kiss me.

We kiss each other cos we just FUCKING want to kiss each other.
Materiality:
video

Duration:
4.15 minutes
What is your definition of queer?
2018
Synopsis:
On weekends,in Briggate Street, many people are coming to do political protests (intersectional-feminism, anti-racism, pro-vegan, pro-Corbyn, etc). Linked to the use of this street, I staying still at a fixed location, on Saturdays and Sundays with a large cardboard sign where is written: What is your definition of queer? I decided to record the answers to create a collection of meanings.



Materiality:
headphones, I-Pod, soundtracks: Meanings, Out of the blue, cardboard sign.

What have you done for me lately ?, Queerology collective, SERF, Leeds, UK

Duration:
19 minutes

Credits:
Griet Beyaert
Materiality:
headphones, I-Pod, soundtracks: Meanings, Out of the blue, red woodenchair.
Exhibition by Rhian Cooke, Heritage weekend, Open at All Souls Church, Blackman Lane, Leeds, UK

Duration:
19 minutes

Credits:
Wes Foster
1400 Ways of closeness
2018


Synopsis:
The piece seeks to create a space of intimacy and consent, between the performer and an audience member. In respect to the engagement of each person's boundaries, we will explore intimacy and find our own mutual connections and find out how far we, as team would like to go.


Materiality:
a bench, velvet clothes, velvet bag, 20 printed cards.

TF18 Tempting Failure Festival, East Croydon, London, UK

Duration:
2 hours

Credits:
Julia Bauer

Corps non sportif
(No-sporty body)
2014

Synopsis:
A sound structure interspersed with bell rings between each round and action. A gap between the sound track and the view of a non-sporty body. The soundtrack is a recording of a boxing training match. The body doesn't know how to practice sports.


The different parts of the soundtrack are: running footsteps, breathing, a fist hitting a punching ball, instructions from the trainer, bell ring, punch. The different moves are: fingers moving, walking in circles in a square space, jumping in place, training, punching, and reading out the definitions of "training", "move", "concentration".






Scenography:
soundtrack, loudspeaker, black tape, tracksuit, t-shirt, boxing hand wraps, boxing gloves, boxing shoes.
Master's degree work, HEAD, Geneva CH

Duration:
11 minutes
Match Percentage
2020
Synopsis:
Sound piece in English and French. The questions are from the dating app OK Cupid. The questions are in English and the answers in French.
Materiality:
soundtrack

Duration:
3.20 minutes
Muscle Your Heart
2019
Synopsis:
A one-to-one performance about dating, romantic and sexual interactions. The audience members come in, I welcome them and, we sit down on the table. I explain and introduce the performance, which has two stages: a shared conversation and a treat stage. We talk about consent and that the person can leave at any time if they don't feel comfortable. A 30-minute soundtrack is played during the performance that also indicates the length of it.
The audience member takes a piece of paper from the glass bowl and reads the topic. If they do not like the subject, they can choose any another one. We have a conversation about the subject. When this stage is done, we move to the treat stage. They can choose between: a hug voucher, a biscuit or a plant. After that or the 30-minute soundtrack, the performance is over. They receive a well done heart sticker. The time together is over. We are saying good-bye.
The subjects on the cards:
Scenography:
a candle, balloons, cushions, siIver, grey and gold fabric, a golden dress, silver tights, emboided jacket, a portable speaker, a I-pod.
NEWK'ed
, CLAY, Leeds, UK
Duration:
durational performance, 30-35 minutes per person. the soundtrack: 30 minutes
Listen Through My Ears
2018
Synopsis:
In this one-to-one performance, you are invited to go on a 10 minute soundwalk with headphones, (with a choice of three categories: Languages, Orientations and Every Day), and at the end of the walk you will be met by the artist who will tell you a story related to your choice.
This piece includes a map, with three paths to follow. It is about the journey, sharing my memories about silence, the past, the present, and about the space between you and me and all the sounds that surround our lives.
Every Day
Languages
Orientations
Our hearing is the most effective of our senses for triggering memories. Even when your memory is damaged, hearing songs, lyrics, and sounds can unlock past memories and forgotten stories.
Scenography:
emboided denim jacket: Listen through my ears, blue jump suit, blue ear rings, three blue umbrellas.

Materiality:
headphones, I-Pod, soundtracks: Every Day, Languages, Orientations, and three postcards where the stories are printed on them.




Soundwalk between Hyde Park Book club (LS6 1BL) and Meannwood, Leeds, UK

Duration:
20 minutes

Credits:
Vicky Mathers/ Iconphotomedia
Duel Moite
(Sweaty Duel)

2017


Synopsis:
Two persons next to each other, in a coach. Two bodies wearing black clothes. Holding a speaker in their hands where a voice interacts with the other. This dialogue tells the desire to understand and to communicate within a relationship. Another soundtrack is playing from the top of the seats in the luggage space. The two persons are closing to each other, getting away, avoiding each other, meeting, splitting up or coming together.
All these movements have influences on the tracks, depending on the distance of the speakers. A sound and visual communication is built between the two of them, and with the public transport's users and the local residents.



Sound performance in collaboration with Christian Valleise.
On the Valais PostBus line that runs between Leytron and Ovronnaz, Valais,CH

Scenography:
black clothes

Materiality:
two portable speakers, two soundtracks: text in French

Duration:
6 sessions of the performance of 10 minutes each. Length of the soundtracks, audio 1: 10,25 and audio 2: 10,35 minutes.

Credits:
Maelle Cornut
Les encouragements
(The encouragements)
2014

Materiality:
video

Duration:
0.46 seconds
In houhouHaHa, collective project in CAAP(Centre ambulatoire d'addictologie psychiatrique), Geneva, CH