Cis men: roots aren't sweet
2019




Synopsis:
Cis men: roots aren't sweet, is a kind of report and fight back to personal experiences linked to ex-cis-boyfriends,
cis-men that I was dating or seeing, and their behaviour or comments linked to my body. The sweet potato is a reference to skin and everyday misogyny. The roots of the potato relate to the passing of time and the
infiltration of the ideology of patriarchy.
On the cards: CIS MEN: ROOTS AREN'T SWEET NICOLE MURMANN 2019.
On the other side: KEEP IT SIMPLE. RECORD YOUR SPONTANEOUS SONG, TEXT OR POEM. YOU CAN SING, SHOUT, WHISPER OR JUST SAY IT. I WILL ADD THE SOUNDTRACK TO MY PLAYLIST, WHICH WILL BW AVAIABLE ON SOUNDCLOUD: CIS MEN: ROOTS AREN'T SWEET.
Cis men:roots aren't sweet, the playlist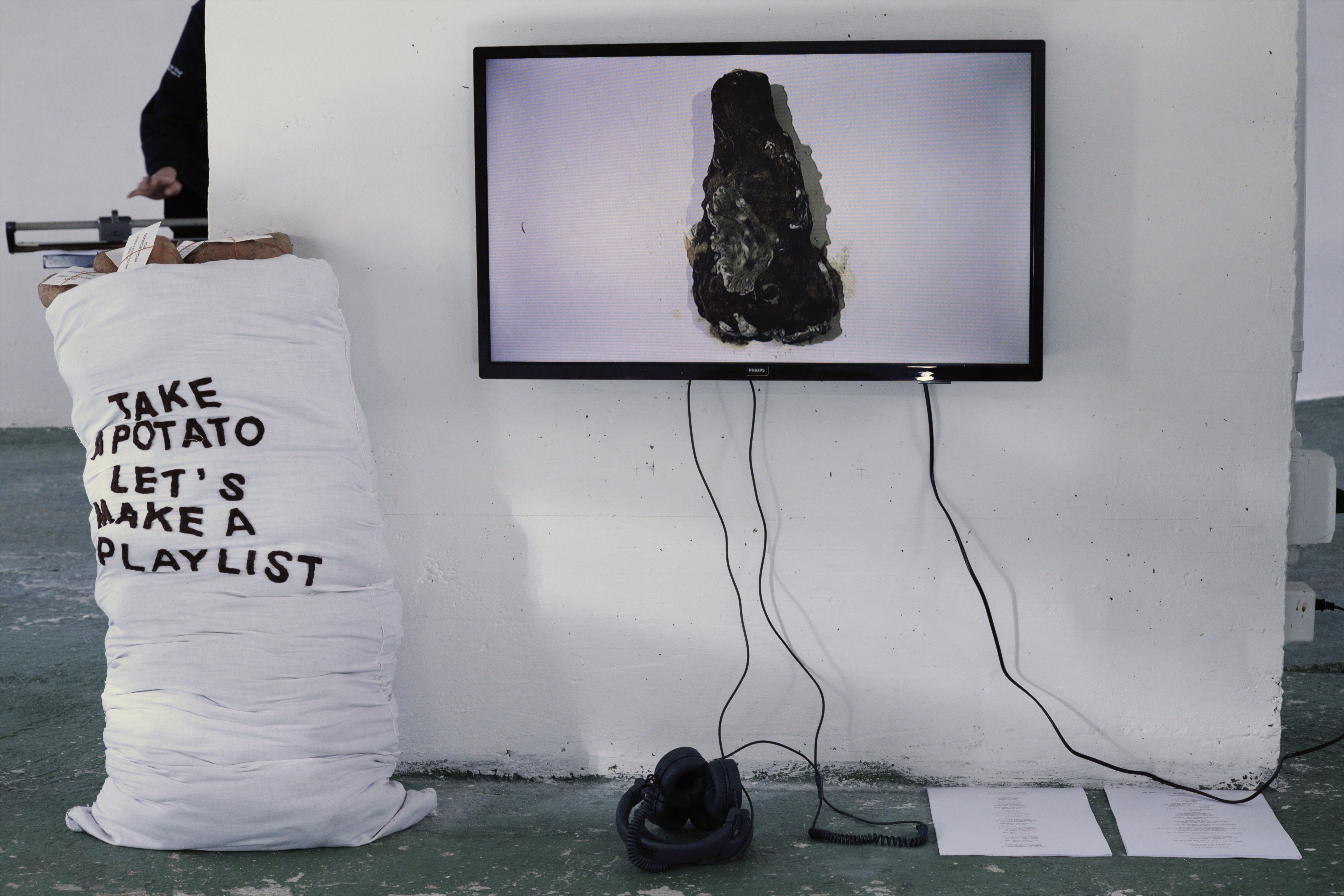 Materiality:
headphones, film, sweet potatoes, cards, emboided bag, two bed sheets as pilow.

Heavy Souls, Queerology collective, Emergency Art Space, Vevey, CH

Duration:
4.31 minutes

Credits:
Naomi Gilby
What is your definition of queer?
2018
Synopsis:
On weekends,in Briggate Street, many people are coming to do political protests (intersectional-feminism, anti-racism, pro-vegan, pro-Corbyn, etc). Linked to the use of this street, I staying still at a fixed location, on Saturdays and Sundays with a large cardboard sign where is written: What is your definition of queer? I decided to record the answers to create a collection of meanings.


Materiality:
headphones, I-Pod, soundtracks: Meanings, Out of the blue, cardboard sign.

What have you done for me lately ?, Queerology collective, SERF, Leeds, UK

Duration:
19 minutes

Credits:
Griet Beyaert
Materiality:
headphones, I-Pod, soundtracks: Meanings, Out of the blue, red woodenchair.
Exhibition by Rhian Cooke, Heritage weekend, Open at All Souls Church, Blackman Lane, Leeds, UK

Duration:
19 minutes

Credits:
Wes Foster
Queerness & Diffability
2018


︎
Scenography:
emboided leader jacket: Queerness & Diffability, red short, black T-shirt, red jumper, 34 stones, video: 30 minutes.


Credits:
Leeds Beckett University, Leeds, UK

Beckett 1, Leeds Beckett University, Leeds, UK

Duration:
40 minutes


Letzter Schluck
(Last Swallow)
2016




Synopsis :
I am wearing underwear, my feet are bare. I am standing in front of a high square table filled with glasses containing white wine; it pitches. I quickly drink the contents of twenty-odd glasses, which I then let fall to the ground. The glass breaks. I gradually become drunk; this simple gesture becomes more and more tricky.



I violently throw several alcohol-filled glasses to the ground. I am soaking wet. I then offer the wine glasses to the audience. I move around with two glasses in my hands at all times; in between, I drink several glasses. I drink the last glass of white wine. I break it. I take the table and leave.

Scenography:
A high square table, a vest and flesh-coloured pants, ninety glasses of white wine, six litres of white wine.

For the finishing of the exhibition: Young Art, Körper und Raum, Zeughaus Kultur, Brig, CH

Duration:
20 minutes

Credits:
Christelle Becholey Besson


WORKS
Kiss In

2019
︎
Materiality:
video

Duration:
4.15 minutes
Text in the film:
Love. Respect. Freedom.
Being queer.
Kissing you.
Being queer in the Western World.
Kissing you.
Queer kissing.

Kissing for freedom when kissing is not forbidden.
Kissing and hoping having no-one stares
Kissing with consent.

Kissing you.

I ask you if I can kiss you, without knowing how you will answer. If it not, that's fine. I can deal with rejection, I am used to it, like everybody else. We are all used to it.

Kissing you.
Kissing in my bedroom.
Kissing in the small path near my flat.
Kissing in front of our friends.
Kissing you.
Just kissing you.
Kissing in public spaces.

Maybe you don't what to kiss me, cos of the others around us, cos of homophobia, lesbophobia, biphobia, transphobia, queerphobia? If that's the case, what can I say?

Kissing you.
Kissing in a crowd.
Kissing as a political action.
Kissing you cos I love you.
Holding hands.

Kissing you, cos I always make the first move.
Kissing you cos I am attracted to you.
Kissing you cos I like you.
Kissing just for the gesture.

Kissing to know if there is a spark.
Kissing for fun.
Kissing to discover how you kiss.
Kissing cos we are so blind drunk.

Kissing cos I miss it.
Kissing you to have no regrets.
Kissing you cos I am afraid that you will never kiss me.
Kissing you cos it is a while since anybody kissed me.

I kiss you.
You kiss me.
They kiss me.

We kiss each other cos we just FUCKING want to kiss each other.
1400 Ways of closeness
2018




Synopsis:
The piece seeks to create a space of intimacy and consent, between the performer and an audience member. In respect to the engagement of each person's boundaries, we will explore intimacy and find our own mutual connections and find out how far we, as team would like to go.

Materiality:
a bench, velvet clothes, velvet bag, 20 printed cards.

TF18 Tempting Failure Festival, East Croydon, London, UK

Duration:
2 hours

Credits:
Julia Bauer

Somewhere somebodies
2017



Materiality:
video

Duration:
4.15 minutes
Duel Moite
(Sweaty Duel)

2017
Synopsis:
Two persons next to each other, in a coach. Two bodies wearing black clothes. Holding a speaker in their hands where a voice interacts with the other. This dialogue tells the desire to understand and to communicate within a relationship. Another soundtrack is playing from the top of the seats in the luggage space. The two persons are closing to each other, getting away, avoiding each other, meeting, splitting up or coming together.


All these movements have influences on the tracks, depending on the distance of the speakers. A sound and visual communication is built between the two of them, and with the public transport's users and the local residents.



Sound performance in collaboration with Christian Valleise.
On the Valais PostBus line that runs between Leytron and Ovronnaz, Valais,CH

Scenography:
black clothes

Materiality:
two portable speakers, two soundtracks: text in French

Duration:
6 sessions of the performance of 10 minutes each. Length of the soundtracks, audio 1: 10,25 and audio 2: 10,35 minutes.

Credits:
Maelle Cornut
Corps non sportif
(No-sporty body)
2014


Synopsis:
A sound structure interspersed with bell rings between each round and action. A gap between the sound track and the view of a non-sporty body. The soundtrack is a recording of a boxing training match. The body doesn't know how to practice sports.


The different parts of the soundtrack are: running footsteps, breathing, a fist hitting a punching ball, instructions from the trainer, bell ring, punch. The different moves are: fingers moving, walking in circles in a square space, jumping in place, training, punching, and reading out the definitions of "training", "move", "concentration".


Scenography:
soundtrack, loudspeaker, black tape, tracksuit, t-shirt, boxing hand wraps, boxing gloves, boxing shoes.
Master's degree work, HEAD, Geneva CH

Duration:
11 minutes
Muscle Your Heart
2019
Synopsis:
A one-to-one performance about dating, romantic and sexual interactions. The audience members come in, I welcome them and, we sit down on the table. I explain and introduce the performance, which has two stages: a shared conversation and a treat stage. We talk about consent and that the person can leave at any time if they don't feel comfortable. A 30-minute soundtrack is played during the performance that also indicates the length of it.
The audience member takes a piece of paper from the glass bowl and reads the topic. If they do not like the subject, they can choose any another one. We have a conversation about the subject. When this stage is done, we move to the treat stage. They can choose between: a hug voucher, a biscuit or a plant. After that or the 30-minute soundtrack, the performance is over. They receive a well done heart sticker. The time together is over. We are saying good-bye.

The subjects on the cards:
-Ambiguous people -First date
-Casual dating -Sexual drive
-Dating friends -Patterns of behaviour
-Dating colleagues _Relationships and class
-Dating apps -Growing and Caring
-Sleeping with friends -Romantic Relationships -One night stand -Queerness
-Always Doubts -Straight partners
-Breaking-up stories -Gender Roles
-Each other vulnerabilities -Attraction and chemicals -Monogamy -Naked Bodies
-Long Distance Relationships -Intimacy and pleasure -When Sex disappears -Sex talks
-Communication & arguments -Honey moon period -Showing affections -Attraction and chemicals -Love nostalgia -Erotic books
-Insecurities and fears -Sex positive and body positivity -Being rejected -Dating possibilities
-Perpetual deceptions -Alternative porn
-Being together -Hot pictures -Co-dependency -Heart broken -Sex-dependency -Relations with exes -Self-destructive behaviour -Being heard and listening -Non-genital orgasms -Friends supports
-Fun sex -The person we never met -Jealousy and comperssion -Fantasy of our relation
-Unsaid and silence
Scenography:
a candle, balloons, cushions, siIver, grey and gold fabric, a golden dress, silver tights, emboided jacket, a portable speaker, a I-pod.
NEWK'ed
, CLAY, Leeds, UK
Duration:
durational performance, 30-35 minutes per person. the soundtrack: 30 minutes.
Listen Through My Ears
2018



Synopsis:
In this one-to-one performance, you are invited to go on a 10 minute soundwalk with headphones, (with a choice of three categories: Languages, Orientations and Every Day), and at the end of the walk you will be met by the artist who will tell you a story related to your choice.
This piece includes a map, with three paths to follow. It is about the journey, sharing my memories about silence, the past, the present, and about the space between you and me and all the sounds that surround our lives.
Every Day
Languages
Orientations
Our hearing is the most effective of our senses for triggering memories. Even when your memory is damaged, hearing songs, lyrics, and sounds can unlock past memories and forgotten stories.
Scenography:
emboided denim jacket: Listen through my ears, blue jump suit, blue ear rings, three blue umbrellas.

Materiality:
headphones, I-Pod, soundtracks: Every Day, Languages, Orientations, and three postcards where the stories are printed on them.



Soundwalk between Hyde Park Book club (LS6 1BL) and Meannwood, Leeds, UK

Duration:
20 minutes

Credits:
Vicky Mathers/ Iconphotomedia
Childrenfree or not
2016




︎

Materiality:
video

Duration:
11.25 minutes

Soundtrack Text (in French in the video):

Voice A :
I couldn't understand why it wasn't coming, and so I asked my psychiatrist: Why? What exactly is this desire to have a child? Because I don't understand what it is. He thought about it and replied: wanting to have a child is the absence of not wanting to have a child. I think that this not-wanting is really present.

Voice B :
Thinking about homosexuality etc., it's true that the society we live in doesn't necessarily allow same-sex adoption - and it's out of the question for me to pretend to be someone I'm not just to have a child.

Voice C :
Sometimes, I tell myself that it would be an "indispensable" experience for me, so as not to have any regrets at the end of my life. Then other times, I qualify this a little more, in the sense that yes, it would be an incredible experience but at the same time it wouldn't be - how can I say - the thing that makes me happy. It's a wonderful thing that would fill me with joy, but I think now I'm able to tell myself that it isn't compulsory. It's not because I am a woman and I have a uterus that I have to have a child.

Voice B :
I've had this desire, I've wanted a child for a long time. But I think that if I don't have one - if I don't have a child but I really tried everything, then that would be ok, if it didn't work out. But in any case, I couldn't bear the idea of not having children without having tried.

Voice D :
Giving life is not necessary. I mean, we don't all have this need to give birth to a child, I think it's kind of a luxury, and I don't want to avail myself of that luxury. I never got my driver's license either, so I don't see why I should have a child. I don't really feel like I want to.

Voice E :
We live in a world that is becoming kind of hostile, there are more and more of us, put simply. So I don't feel like if everyone has the same reaction as me, that we're doing the right thing for the planet. It's also a question of climate, not necessarily a human climate, but simply a climate relating to the planet. Where will we go if we all have children? If we have too many children? etc. I don't know if I could give my child a space in this world.

Voice C :
There are quite a few things in my vision of the future, of life on this earth, that make me reticent - what can I have an influence over? Can one have an influence on happiness? I would like to be able to bring it into the life of a child.

Voice B :
It's quite a particular world, especially now with everything that's going on - there's ultimately a kind of lack of tolerance, a marginalisation of certain populations, of certain categories of people, as well as a generalisation of certain ethnicities. I think that if we can give a kid some values, or an education that leans a certain way - if we can pass on traditions, values, pass on something - that in the end societies only evolve if people sometimes take a step back about certain things. If nobody wanted kids it would simply stop.

Voice D :
It's quite difficult to position oneself and to say, well maybe I won't have any; because it's really guilt-inducing, you keep telling yourself that there are all these people who are waiting for me to continue my line. I'm satisfied with my life the way it is. I don't need to know that there will be a continuity of me in another being, because actually I find it quite unfair to give birth to a being thinking it's half of you, when in fact it isn't at all, it's a whole new being. It has nothing to do with you. It maybe has genes that resemble yours, but it's someone else, it's a stranger.

Voice C :
Giving life does not mean making a mini-me. It means creating a life which is unique - a new person, that comes from your own body but is other.

Voice E :
Because I'm an artist, I feel like I need a lot of answers before I have a child - things to do, projects to accomplish, other than a child. But I don't necessarily see it as an outcome of making artistic projects, that maybe I might be more fulfilled and happy if I had a child. But it might impede me from doing my artistic projects. But maybe now my projects aren't so strong anymore - after all what's stronger than a living being? that continues to live. Next to that, an art project isn't much, it dies more easily, it's forgotten more easily, especially with the sheer number of projects. Basically the projects of human beings don't amount to much next to human beings themselves, just the fact that they exist on earth.

Voice D :
I don't know how you can make such a huge decision and be sure of it. Because it's life-changing. It's just that we like our life the way it is, we feel whole as we are, and a child would be something more.

Voice B :
There are fears - I have many fears about this. Because yes, doing it alone is scary. Even if there's two of you it's scary, so being alone makes it even more scary.

Voice A :
I can't imagine being linked to a human being, especially to a human being that I created; that's too much responsibility for me, it's something I don't want to go through, I find it's too much. And what scares me is the bodily aspect: as if this child would shatter the balance I have in my body, it's like an alien, like an intruder that will grow inside of me, and once it's out it will be like cutting off a leg. It's like the body is splintered, one's own cell is splintered, a deformation, a cut-out. I've always seen the body like something fractured that needs to be rounded up. And creating a human being inside one's own body is part of this division for me, rather than unifying one's own bodily casing. My job today is not to build something inside of me and then feel like there is a part of me outside of myself. It's the difference between internal and external. Actually my job, in my life today, is rather to create something unified and rounded and work on harmony. As for me, I don't know, maybe in five years' time I'll feel sufficiently in harmony to allow myself that sort of thing, but right now I just don't want to.

Voice D :
I don't know, and I'll probably never know. I can't be so confident about something so abstract. You never know what will come out, it's worse than a Kinder egg. You don't know who you're going to end up with. For me that's too scary.

Voice E :
I think I avoid the question of children, because I already have too many questions about what I'm doing here, why am I here? And that's what's holding me back from thinking about creating someone else - as long as I don't know what I'm doing here, I'm not going to make someone else.